Fredrick Frost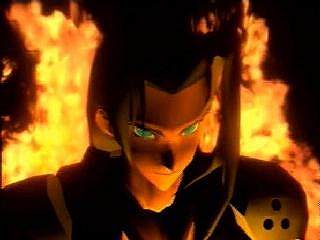 Played by: Jeff Brassard

Sex: Male

Clan: Caitiff

Generation: 12th

Position: Ancilla

Born: 1845. London, England.

Appearance:
6'0". Wears a black trench coat. Frost has glowing Green eyes and blond hair.
Background:
Frost was sired at the age of 20. For 10 years he served his Sire who would not release him. When Frost grew tired of serving the lofty old Vampire he cut off his head with a sword, violating the basic Vampire code.

After his clan (the Ventrue) attempted to kill him Frost disappeared for 25 years during which he went to Asia. Frost returned to England with a sacred sword known as Masamune.

The sword grants him great power and he carries it with him constantly. Frost wiped out most members of the Ventrue clan in Europe over a period of 100 years until what remained of the clan drove him out of Europe. Now Frost has come to New Chelsea to continue his vendetta against his former clansmen. Frost's skill with a sword is unmatched - probably because of the Masamune's strange power.

During his wanderings in Europe, Frost befriended a Methuselah called Specter. None knew her exact age, though some suspected she was Antediluvian. Her powers were so great that Frost could not resist her. She showed him much about the world, but over time, Frost came to recognise her evil. With the help of a Cainite called Johnnie Hammond he escaped her.

At one time, Fredrick was romantically involved with Rachelle, a fellow Kindred. She has returned to New Chelsea to help Frost, but finds competition for the Caitiff's affections in the form of as young Brujah named Airegon.

When he came to New Chelsea, Frost brought a few of the pieces of the Great Crystal, which he intended to collect for Specter, who had gained a hold on him once more. With the help of Hammond (again) with Rachelle and Airegon, Frost turned sides, and tried to collect the Crystals himself, to keep them from Specter (though the Crystals no doubt had other plans). He took Leick's hand to get some of them, but Specter forced him to give them up to her. She sacrificed herself when she saw the evil she would bring, and stopped the Crystal from taking over the Earth.

At some point, Frost was aligned with the Sabbat, who wished him to help them overthrow the Camarilla. However, Cray (working with Cochrane, a local Sabbat leader) killed Frost to take Masamune from him. Rachelle took it first, however, robbing Cray of his prize.
Powers:
For some reason Frost does not posses the powers of the Ventrue clan (the reason he calls himself a Caitiff). He is more like a human which is why he is forced to draw power from Masamune.
Back to the Characters...
Back to Vampire Page...