Drukh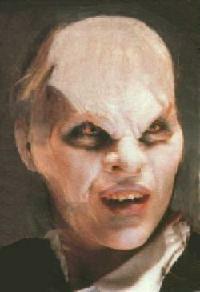 Played by: Non-player character.

Sex: Female

Clan: Nosferatu

Generation: 12th

Position: Neonate

Born: Cynthiana, Kentucky, 1908.

Appearance:
Drukh's face is a picture of sadness. She has no hair atop her head but a few stray patches, and her eyes are pulled down at the corners in a constant mask of sorrow. Her teeth are all pointed, and her ears jagged. In the centre of her face sits something similar to a nose, but does not look like what we would call a nose. It has three main sections, amorphous lumps, and is spread wide. The only thing that reveals that she was once a human is the sadness in her eyes.
Background:
Drukh never knew her parents. She grew up in an orphanage in Cynthiana, until the day she was adopted by a strange man. Drukh never saw his face until the day he took her home (she was aged 7). She was horrified at what she saw. The 'man' was in fact a Vampire. And a Nosferatu at that.

In time, Drukh (she had no birth name - although the orphanage had called her Sally) grew used to the ugly man, and when she turned 18 she asked to be Embraced. The Nosferatu (she had never asked his name) thought this was too young, but Drukh insisted. He obliged her, but had not asked permission from the Prince of the town (there were only three Kindred there) and so fell prey to His wrath. The Nosferatu was sentenced to Final Death and executed by decapitation and left to burn come dawn.

In sorrow, Drukh fled the town and settled in Ohio where she slept in a Mausoleum for 70 years, coming out only to feed. When her mourning was done, Drukh set out again, eventually settling in New Chelsea.

Her haven is at the bottom of an old abandoned well. The structure down there is as large as a good-sized living room in a house and is as big as needed for her.
Powers:
Drukh's strongest Discipline is Animalism. She communicates well with animals, and they come to her aid when she asks. Occasionally she has managed to affect even humans with her Song of Serenity.

She has a reasonable amount of Obfuscational skills. Usually she can only hide herself behind objects to make herself invisible, but sometimes can be invisible out in the open. She has never yet managed to disappear when she is already in full view of someone.

Although she is stronger than her slight form would suggest, her Potence is very weak compared to most Nosferau.
Back to Characters...
Back to Vampire Page...