Brooke Stills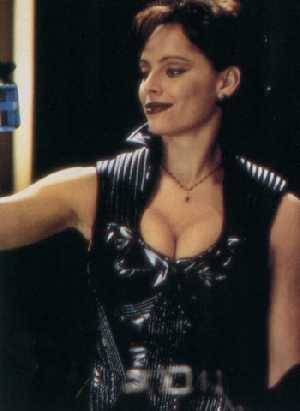 Played by: Non-player character

Sex: Female

Clan: Malkavian

Generation: 13th

Position: Childe

Born: Red Valley, Virginia. 1974.

Appearance:
Brooke is reasonably tall and strong. Her dark brown hair is soft and wavy, and her eyes are a deep brown, and a sadness and resolute determination can be seen deep inside them.
Background:
Brooke was born on a farm in Virginia where she worked hard after her father died. When she was 17 she left home (her sister Linda could take care of their mother) and moved to Illinois, where she had family. Settling in Chicago, she made a decent living as a waitress. She worked out often (on the farm her body had become well-muscled) and trained in martial arts on the weekend. This came in handy when she was attacked one lonely night.

A group of pale-faced teenagers attacked her, but she escaped them. She saw one of them impaled through the heart on a wooden piece of fence, before his friend pulled him off - apparently none the worse for wear. That was when she knew something strange was going on.

She spent the next few months researching Vampires. Her intense hobby caused her to lose her job (she was too distracted) but she payed little heed. Separating myth from fact, Brooke gained much knowledge and made it her quest to destroy all Vampires. The very concept of them disgusted and horrified her.

Unfortunately, when hunting them in a city called New Chelsea, a gang of them Embraced her, and she is now one of them, experiencing first hand the pain of a Malkavian Becoming.
Powers:
Though she hasn't tested her powers much yet, Obfuscation seems to be her most powerful skill, with Dominate following behind. She has little in the way of Auspex, it would appear.
Back to Characters...
Back to Vampire Page...