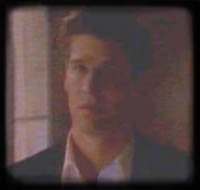 Angel Investigations - Misfiled
Even the best of us fall sometimes. And so, the best show on the air today can have some slip-ups. These are those accidental gaffs that the Angel Investigations team sweep under the carpet.
In short, it's a Nitpicker's Guide.
You guys know the drill, right? Good. If you spot any errors I haven't, please wing 'em on over to joker1978@hotmail.com and if you're right you'll be listed with your entry. Well, here we go:
These are First Season nits. Did you want:
Second Season?
Third Season?
City of
When Angel calls Buffy in this episode, the 'phone rings only once before she picks up. However, just an hour ago during Buffy's The Freshman she lets two rings go before she answers.
Lonely Hearts
The bartender tries to 'take' Kate (body-jump the parasite) without a transfer of bodily fluids. Granted Angel said that Talamar (the burrowing parasite) may require the bodily fluid thing, it wasn't definite, but he's always done that in the past. Why the change in MO? There's no reason. He wasn't found out or anything.
I Fall to Pieces
This one is bad. Melissa and her friends are giving their friend a birthday cake. However, her name has accidentally been spelled "Benji" so they quickly turn the 'B' into a 'P'. Note that this is all they manage to fix. The 'j' is still there, as is the 'i'. However, when they turn it to face the birthday girl, the 'i' has miraculously become a 'y'! However did they accomplish this feat? (I might suspect Meltzer's disembodied hand helped out while we weren't looking - except that there's no time!)

Okay, so this Dr Meltzer can detach his parts and reattach them with no hassle. Not only that, but he can somehow control them remotely by thought alone. First of all, this is quite a feat and unrelated to his ability to perform "psychic surgery". But see how his hands still have to crawl around on their fingers, like Thing from the Addams Family movies? This makes sense (in context at least!) but it forces me to wonder: how then do his eyeballs float? When they are detached, they fly around free as a bird. Why the difference?
In the Dark
Does it seem to anyone else that Angel gets by pretty well in the back of Oz's van which is filled with sunlight? I know only direct rays can kill him, but with all the swerving Oz is doing I find it hard to believe Angel can still be alive in there. Just lucky I guess.

Yeah, that sunset at the end looks real. Seriously, you can't tell Glenn Quinn and David Boreanaz are acting in front of a green screen. No really. We totally buy it, I swear.
Rm w/a Vu
Just out of curiosity, why can't they use the excorcism spell from I Only Have Eyes For You? Angel doesn't seem to like the one they have, but no one mentions the previous one. Granted, they'd need a fourth chanter but surely they could rope someone into giving them a hand? (Also note that Cordy is much more flustered by this ghost than by the previous one, even though the one in Buffy was much more violent.)
The Bachelor Party
Okay, pay attention. Doyle says he and Harry got married before they were 20 years old. Harry later tells Cordelia that Doyle had his teaching credentials (to teach grade school) before they met. So Doyle managed to get a teaching degree before he was 19? I don't know how it works in the good ol' US of A, but in Britain you need to go through four years of college to be qualified to teach grade school. Doyle would have barely been out of high school when he and Harry met. How did he get his credentials?

Angel is thrown out of Richard's bachelor party and acquires a cut on the left side of his forehead from the fall. When he vamps out, the cut can be seen to disappear as he changes form. If this can really happen, why doesn't he heal more wounds this way? Hurt? Just put your 'game face' on and everything's just hunky dorey. Neat!
Hero
Can 'Pure Boy' and his Scourge buddies really survive the Beacon? Anya claimed in Buffy's well-known episode Graduation Day, Part 2 that the Earth-bound demons are tainted. Human hybrids and such. Pure demons are "bigger, for one thing". These Scourge guys don't look like pure-bloods to me, anyway. I think their toy might just be fatal even to them...
The Prodigal
Liam (who will soon change his name to Angelus) rises from the grave, with Darla standing by to watch. As they talk together, both vampires' breath visibly steams in the air. Um, why? Vamps have no body heat - their breath should not show up.
Eternity
I don't buy it. Wesley says that Angel reverted to Angelus because the drug Rebecca slipped him simulated bliss. I don't buy it. The spell will only fail if he experiences real bliss, and even then it's gone forever. You can't trick a spell, which then says "Oh I was wrong!" and fixes itself back up. That's madness!
On the other hand, the episode still works. What really happened (I hypothesize) is that the drug (for want of a better phrase) put Angel's soul to sleep (that is, his conscience and all capacity for guilt and remorse). This would indeed be a simulation of bliss. Angel's ability to fight his darkside is now repressed. The demon-soul within him (see, for example, the fight with Eyghon in The Dark Age back on Buffy) which is the heart of Angelus, now has free reign. When the drug wears off, Angel can restrain himself again and be a good guy.
You buy it?
The Ring
When behind the red line, and cuffed so that he cannot cross it without disintegrating, Angel decides to grab Jack McNamara across the line to hold him hostage. Angel reaches out his left hand (the manacled one), thus risking his life. What a stupid vampire this is! His right hand is unshackled, and thus could cross the red line without risk of harm. Why, then, does Angel use his left, and come this close to being vamp dust?

Um, does horse hair really conduct electricity? Wesley said he needed something that would conduct electricity, but not too much electricity. Later, he also added that it had to be thin enough to thread the lock, and supple enough to pick it. At which point Cordelia suggests horse hair, which turns out to work. But how? Did everyone forget about the conductivity thing?
To Shanshu in LA
A bad one here - many people have spotted this one, I'm certain.
When Wesley and Cordelia are discussing the fact that Angel doesn't want that many things, Cor is consuming a donut. She clearly breaks the ring at one point to tear pieces off. She then gets up and walks across the room to pour a cup of coffee. Wesley takes the donut, and now (in a shot across Cordy's shoulder of Wesley's face) the bites in the donut do not break the ring!
However, in a subsequent shot from the same angle (someone was mixing different takes together) Wesley goes to bite the donut, whose ring is once again broken!
After he bites it, however, the ring is back to being intact! It's just poor continuity control, and poor editing (although I'll grant that food and drink, along with cigarettes, are the hardest things to keep constant).

Hmmmm. I don't see how that long raising ritual, the prophecy about the blind kids, the 'shanshu' prophecy, and the stuff that Vohka fears will complete Angel's connection to the PTBs, can all fit on that tiny Aubergian scroll! I'm just saying...
Well, that's all I got for now. I'm sure mistakes will continue to be made, and I'll report 'em. You can be sure of that.